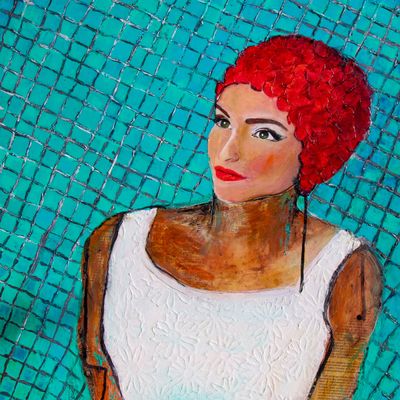 Print Limited Edition - Red Cap
Retro Girls
$90.00
"Red Cap" by Fiona Ehn forms part of the Retro fashion icons collection. The original painting was heavily textured through use of different materials such as cardboards, heavy papers, newspaper and modelling clay. The work has been professionally photographed, and has captured the texture in the image
I built this collection as I love the style of the 1950's - 60s era.
Being a Giclee art print, the printing technique uses sophisticated technology with pigment ink jets which delivers a fine stream of ink onto archival paper to gallery quality standard. The resulting print has extremely fine colour fidelity and definition.
The print is available in a range of sizes and is printed on soft white cotton etching décor paper in a range of sizes
A4: 297x297 mm - $90
A3: 420x420mm - $140
A2: 594x594mm - $200


As there are a range of print and framing options available, please email me to discuss before submitting payment for this product.
As there are a range of print and framing options please email me to discuss before submitting payment for this product
SKU: 10000-4