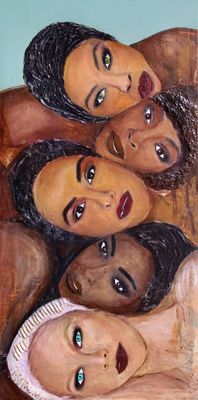 Original Art Work - And She Roared
Retro Girls
$450.00
"And She Roared" by Fiona Ehn is a mixed media work crafted on a hardboard 600mm x 300mm x 70mm handmade boxed wooden frame.
This work was created in a response for an Art competition themed Diversity. It represents the beauty of the diverse cultures and ways of life in our world
The painting is in bronze, browns, mustard and teal, and is heavily textured using cotton papers, modelling clay applied through the use of stencils, and embossed and hand cut cardboard. As with all my originals, it is protected with a varnish, signed and titles on the back.
Each painting is shipped out of Albany, Auckland. If you live outside NZ, please email me and I will put the painting on hold while we discuss the shipping options available
If you would like to view the work in more detail, a short video can be arranged for you. Note: the actual image is the same dimensions as the rectangle image in the viewing pane
Currently on display at Estuary Arts - Orewa. All proceed will be donated to COVID - India response
SKU: 10000-10