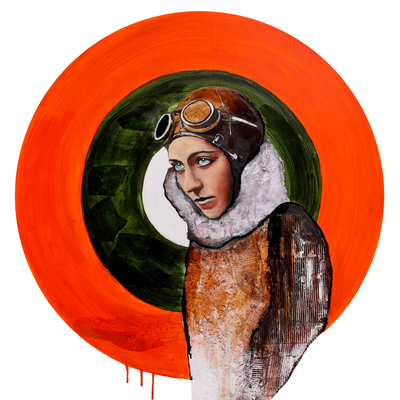 Print Limited Edition - Wonderful Miss Amy
Retro Girls
$90.00
Print Limited Edition - Wonderful Miss Amy
RETRO GIRLS
$90.00
"Wonderful Miss Amy" - Amy Johnson (born 1903 died 1943) was a pioneering English pilot who was the first women to fly solo from London to Australia in 1930 in a second hand Gipsy moth called Jason.

The painting is in white, orange, olive and brown and is heavily textured using cotton papers, modelling clay applied through the use of stencils, and embossed and hand cut cardboard.
Being a Giclee art print, the printing technique uses sophisticated technology with pigment ink jets which delivers a fine stream of ink onto archival paper to gallery quality standard. The resulting print has extremely fine colour fidelity and definition.
The print is available in a range of sizes and is printed on soft white cotton etching décor paper in a range of sizes
A4: 297x297 mm - $90
A3: 420x420mm - $140
A2: 594x594mm - $200
As there are a range of print and some framing options available, please email me to discuss before submitting payment for this product
SKU: 10000-76